Hello! I'm Katrina,

..........

I'm a watercolor artist, who creates designs for the home decor and gift industry and I'm here to help develop your skills and learn how to share your art with the world. Click below to stay informed of upcoming classes.
Let's get to it!
....................


Art has always been a part of my life, even as I earned a degree in Medical Lab Science and worked for twelve years in the field. But I always had a creative outlet, and painting was a necessity. I come from a family of creative people with an entrepreneurial spirit, which inspired me to figure out a way to make a living with my art. I had some success on Etsy and was soon contacted by an art director for a large greeting card company. While designing cards, I started thinking about putting my art onto other products. I soon discovered the world of art licensing, and I took a leap of faith to pursue my passion for painting, while sharing my knowledge of the medium through classes in my local community and online as well.
More about me
Workshop Special
Helping you advance your watercolor skills brings me so much joy! This 2 for 1 deal is priced at $29, and includes perpetual access to the workshops.
Limited Time Only
Uplifting Art For Your Home
Our homes are a place of rest and rejuvenation. My goal is to create paintings that elevate your space while providing a sense of calm. My latest collection of abstract landscapes showcases open skies, ribbons of clouds and land, with pops of unexpected color.
View the Collection
Paint This Hydrangea!
My Watercolor Floral Workshop is now available and entirely online so you can follow along at your own pace.
More Details
Watercolor Floral Workshop
Three classes in one workshop! Learn how to paint three types of flowers and take your skills to the next level.
Now Available
Mini Tutorial
Learn how to paint these dreamy watercolor delphiniums in just 15 minutes! This quick mini tutorial is a great way to get started with loose floral watercolor painting. And it's free!
Free Mini Tutorial
5 Steps to Sell Your Art in 2023
When I first made the decision to pursue painting as a career, I had a lot of uncertainty. I wasn't sure where to begin or what to focus on. These five steps helped guide my art journey and I hope it can help you too! I made a free simple guide to help you on your own journey.
Learn More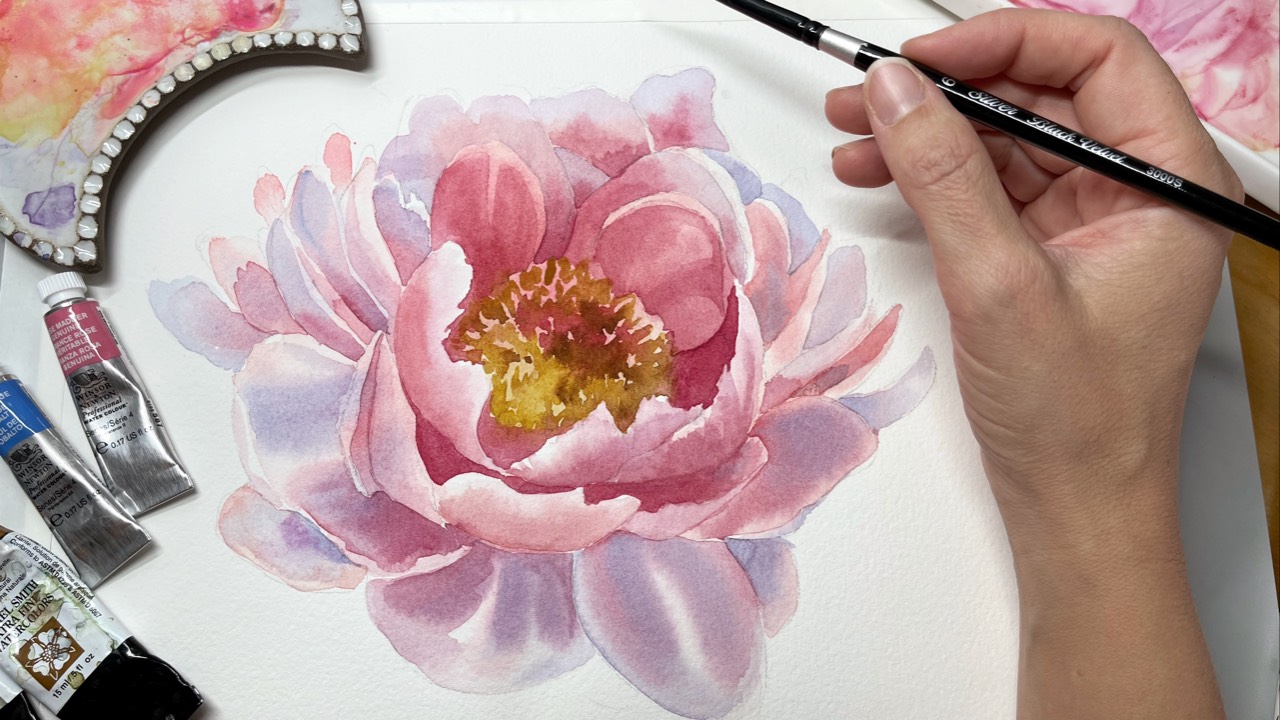 Download My Supply List!
All of my favorite and most used brushes, paper, paint and other items I find extremely helpful.
Stay Connected
....................

Join my mailing list to receive monthly tips, inspiration, and industry highlights, plus a list of my favorite supplies and where to find them!

Reviews
"This class showed me lots of new things I hadn't tried such as the branches in the back and the amount of water to use. I liked the direct instructions that were right to the point. Some instructors go on and on. Wonderful class. I will definitely do it again on cotton paper."
..........

Lois Fisher